Alkyne modifiers are used to react with azide labeled functional groups to form stable bonds through the azide alkyne Huisgen cycloaddition reaction. This reaction is commonly referred to as the click reaction.
This modification is the simplest way to introduce a 5' terminal alkyne group. Alkynes readily react with azides in the presence of copper (I) to form stable 1,2,3-triazole bonds. This is the most popular form of the click reactions.
Scientific Details
MW:
160.1
Mod Code:
/5Hexynyl/
Structure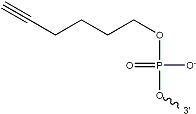 5-Octadiynyl dU is a modified base with an eight carbon linker terminating in an alkyne group. Use of this modified base is the preferred way to insert alkynes at internal positions within a sequence.
Scientific Details
MW:
104.2
Mod Code:
/55OctdU/
Scientific Details
MW:
104.2
Mod Code:
/i5OctdU/
Scientific Details
MW:
104.2
Mod Code:
/35OctdU/
Structure